There is a new kid on the block: 21 Buttons! Well, the 21 Buttons app is not really new but this shopping app has been gaining moment recently. So, what is the 21 Buttons? And most importantly, how can you use this app to make money?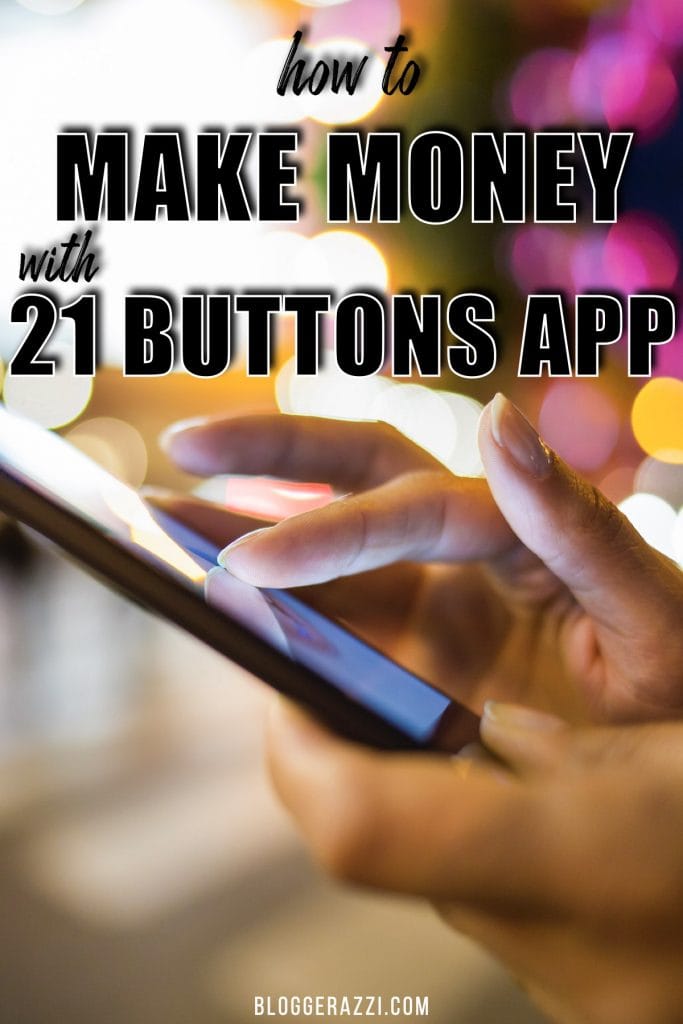 If you're not familiar with 21Buttons, don't feel bad about it. There are way too many products and services vying for our attention. You lose some, and you win some!


I first caught wind of 21Buttons when someone from their marketing team slipped into my DM. I held off on creating an account for a few days because I needed time to decide if this was yet another platform I wanted to take on. Long story short, I decided to give 21 Buttons a shot.
What is 21 Buttons App?
Whether you're new to the app, or an avid fan already, 21 Buttons is a name you're going to want to remember. This platform is a rapidly growing source of inspiration, income and fashion marketplace that many influencers and freelancers can't get enough of.


21 Buttons is a simple-to-use yet robust app (view here) that allows users and retailers get inspiration on new trends, exposure and conversion (sales) in a non-intrusive way.


Buttoners post pictures of their outfit and place a round tag called 'buttons' on the individual items featured. These tags turn into shoppable icons for 21Buttons users. Buttoners can picture the entire ensemble together and shop each item right on the app.


So rather than mindlessly searching for product look-alikes on the internet, you get to see directly where your friends, bloggers, vloggers, and influencers get their look from. Here's one of my photos on 21Buttons with shoppable buttons!


But how can you make money with the app, you ask? I've got you covered!


How to Make Money with 21 Buttons
I see 21 Buttons as a mix of Instagram and Pinterest with direct shopping capabilities. Users (you don't have to be a blogger or vloggger) share and monetize pictures of their newest outfits.


How to Monetize your 21Buttons Looks
Create an account here (click the + button)
Upload your picture

It has to be a photo you own

Add Buttons to make your photo shoppable
That's it!
The Buttons you add link a piece of item directly to the website where a Buttoner can find and buy that (or similar) product. In return, you get a 4-6% commission on the sale at no extra cost for the buyer. Pretty cool right?


21 Buttons automatically creates a video of your look making it super easy to share your outfit to platforms like Instagram, Facebook, and I bet TikTok! The bottom line is that 21 Buttons is about inspiring others with new ways to style old and new pieces through someone like you.


Now that you already what 21Buttons is all about and how to make money, let's dive into how to gain followers on 21 Buttons.
How to Gain Followers with 21 Buttons
If I'm being honest, gaining followers quickly is one of the huge benefits of 21Buttons compared to rewardStyle LiketoKnow.it app and Instagram.


Although follower count is a vanity number, the truth is that the more followers you have on any social media platform, the greater your exposure (all things being equal). I've been on rewardStyle for a long time years and only recently crossed 800 followers. But, I got to that number in under 2 months on 21 Buttons!


How is that possible?

Glad you asked! 21Buttons "suggests" new Buttoners on your home screen anytime you launch the app. Plus they send spotlights in your notification center of featured looks/Buttoners. So this gives everyone the possibility of rising to the top faster than similar apps.


Tips on how to grow faster on 21 Buttons
Post often: your frequency of posting increases your visibility on the platform.
Post high-quality photos: good images are the only ones that get featured on the app. Nobody wants to see a blurry, poorly-lit image. What's the point if they can't see your outfit and picture themself in it.
Add a short description: inspire others on how they can style your outfit.
Use relevant hashtags: if they can't find you, you won't get new followers.
Promote yourself: let your friends on Instagram know that you're on 21 Buttons through Instagram swipe ups and in-feed posts. Go a step further by sharing your 21Buttons profile in your Instagram bio and on your blog (if you have one).
Follow others: unless you already have a tribe, from say Instagram, don't expect to immediately get followers. Follow Buttoners that inspire you and in turn, you might get a follow back. Forget the follow-for-follow tactic. That's just rude!
Engage with others: heart and comment on looks that mirror your style. Spend some time on the app building your network, and you'll get much more out of it.

Note: Growing a following is always the hardest. Usually, people only want to follow others who already have a following. Don't give up if you don't see your follower count gaining traction in the first few days/weeks. Good things take time!
What Makes 21 Buttons Stand Out
1. Social Business as the Focus
21 Buttons is first and foremost a social commerce business that facilitates outfit ideas and shopping. The business model is open to everybody, not just established influencers who have the backing of several years and thousands of followers. While the app has the vibes of social media, at its core, it is a business app.


2. E-commerce-Friendly Filtering
On 21 Buttons, it is incredibly easy to search by brand, color, or style. Other apps have more broad specifications for posting about clothing, and some of them may not even be relevant. With 21 Buttons, filtering your search is hassle-free! Type what you're looking for and get the best recommendations.


It is also a good idea to build your feed in a way that speaks to you. Follow people whose style you could see yourself buying from and build your network. Find trends that resonate with you, and then post outfits that speak to your audience – income will follow.


Don't forget to accurately tag and link your looks with Buttons. That way your posts show up in general searches expanding your reach.


3. Commissions Made Easy
Guess what? You get a commission on EVERY button you post aka from all retailers (big or small). If someone makes a purchase after clicking on one of your buttons, you get a 4-6% of the sale! 21Buttons understands the importance of exposure and pays you for your time posting about items you already own.


4. Influencing for Everyone
It might be hard to believe, but everyone is an influencer in one way or another. And 21Buttons knows that too. That's why the barrier to getting started on 21Buttons is little to none. All you need is a smartphone and photos of your outfits. Weave in your unique taste and storyline and you're ready to go.


You don't need to have 10,000 followers (I'm looking at you Instagram) to have the swipe-up feature or a business profile to create shoppable posts (ahem! Facebook).
5. Open Inspiration
21 Buttons emphasizes the social aspect of social business. You don't have to buy anything on 21 Buttons if you don't want to. You can use the app the same way you would use Instagram and Pinterest. Scroll freely, explore the 'discover' section of the app, and bookmark your favorite looks for later.


6. PayPal Payout
Linked directly to PayPal, you can cash out as soon as you hit $10 in commissions. That means you don't need to wait for months while you scrounge up enough money to hit that $100 mark like shopStyle and rewardStyle require.


Simply help a few people find their newest wardrobe piece, and you will see money in your account in no time.


Related Post: How To Start A Fashion Blog on A Budget (in 30 Minutes or Less!)
What Can be Improved on 21 Buttons
As with all things in life, 21 Buttons is not perfect. Here are a few things to keep in mind while using 21 Buttons:


1. No Vetting/Verification Process
This can be both a good and bad thing. As mentioned above, you do not have to be an established influencer or business to start making money on 21 Buttons.


This also means that anyone can steal photos from Instagram and Pinterest and start monetizing those images. Although 21 Buttons has a strict policy against this, there's nothing preventing the thieves from creating another profile and continuing this nasty behavior.


2. Low Commission Rate
Although 21 Buttons commission rates 4-6% on every retailer is fair, the rate is less than half what rewardStyle/LiketoKnow.it offers for a retailer like Nordstrom.


So if you post a $40 product as part of your ensemble, expect no more than $2.40 if you make a sale. However, this can be drastically low, especially if the item linked is under $10. And remember that you will not hit the jackpot with every post you upload.


3. Not a Dominant Player in the US/No Longer in the US
21 Buttons is a big player in Europe. In fact, the app is present in at least 10 different countries with language support for those countries. In my opinion, the brand is making a move to be a significant player in the US where rewardStyle/LiketoKnow.it and ShopStyle dominates.
UPDATE: The folks at 21 Buttons App made the tough decision to pull out of the US market a few years ago. So shippable products from US-based fashion bloggers/influencers are no longer commissionable. #bummer. I still have my 21 Buttons profile in case things change in the future.
And I think that was part of the reason that I received that Instagram DM in the first place. Although it's a tough competition in the US, I see huge potentials with the 21 Buttons app. And early adopters like you (and I) stand to reap the benefits of getting started early. Sign up here.


4. Vagueness on Sales
In line with the decent 4-6% commission rates, there's currently no way to tell what product(s) you sold. All you see in your commission dashboard is your accumulated commission.


You can neither see the item you sold, the date you earned the commission, nor the breakdown of your income over time. This makes it incredibly hard to know what items resonated with your audience and to come up with a winning strategy.


Yes, you can see the likes and engagements on your photos. But, how do you know if the high engagement you received on a post was because of that post getting featured around the 21Buttons app?


21 Buttons vs. LiketoKnow.It by rewardStyle
You've seen rewardStyle and LiketoKnow.it sprinkled throughout this article. So what are the similarities and difference between 21 Buttons app and rewardStyle's LiketoKnow.it app?


My 21Buttons Profile vs. my LiketoKnow.it Profile
Unlike Instagram and Pinterest, I believe 21 Buttons' biggest competition is LiketoKnow.it. In case you're wondering, here are the similarities between both apps.


Similarities Between 21Buttons and LiketoKnow.it Apps
A visual mood board with shopping capabilities right in the app
You earn a commission for each sale you influence
The potential for paid collaborations with affiliated partners
Shopper can favorite and save items from your looks
Geared towards influencers with a big visual focus (fashion vs. marketing)
Both apps are available on Apple and Android devices


The differences Between 21Buttons and LiketoKnow.it Apps
LiketoKnow.it (LTK) works best if you already have an audience on a different platform (like Instagram) that you can direct to follow on the LTK app. Otherwise, it can be very hard to gain new followers. 21 Buttons is structured in a way that gets you better exposure and new followers when starting from scratch.
LiketoKnow.it gives you a commission on retailers connected to the network (non-affiliated retailers are un-linkable). Whereas 21 Buttons gives you a commission on sales from all retailers you link to.
LiketoKnow.it commission rates can be as high as 20% depending on the retailer and season. 21Buttons are fixed at 4-6% without a breakdown on the rate per vendor.
You can use the rewardStyle LinkNinja tool on your blog to make money. Whereas, 21 Buttons only works in the mobile app. Not a deal-breaker if you want to share exclusive app-only photos on the app.
You can only cash out on LiketoKnow.it/rewardStyle once you hit $100 in commissions. Whereas, you only need $10 to cash out on 21Buttons.
LiketoKnow.it has a huge presence in the US. Whereas 21 Buttons is big in Europe and growing in the US.
Shoppers on the LiketoKnow.it app can favorite or add items to their wishlist (comment is not an option). Whereas Buttoners on 21Buttons can heart, bookmark, and comment on posts.
LiketoKnow.it app is enabled for shoppable photos only. Whereas 21 Buttons is testing/rolling out shoppable videos.
Creators have to download the rewardStyle app to post their looks to the LiketoKnow.it app (plus download the LTK app to see how their photos appear to shoppers). Whereas everything is streamlined into one app in 21 Buttons.
21 Buttons App vs. LiketoKnow.It App: Which is better?
Depending on what you're looking for, the answer will vary. 21 Buttons has a laundry list of pros and cons, and LiketoKnow.it does as well. There will be things you like about both, and things you could do without.
Personally, I use both apps as the look you share on LiketoKnow.It can be easily adapted for 21Buttons and even modified for your Amazon Influencer account! If you're uncertain, I say do a mini-experiment and try both apps out for 30 days before making a decision. No point leaving money on the table!
Sign up for 21Buttons here and for LiketoKnow.It here. And if you like my style, do give me a follow on LTK here and 21Buttons here.
Both apps are great for anyone looking to make some side money through fashion and beauty. And they bridge the gap between outfit inspiration to wearable looks in your closet.
I hope this post answered your questions about: what the 21 Buttons app is? How to make money with 21Buttons? And the similarities and differences between 21Buttons and LiketoKnow.It. Happy influencing!
If you found this post about the 21 Buttons app helpful, you'll love these related posts:
PIN FOR LATER!