As a full-time fashion blogger, I am constantly asked what camera is the best for blogging. People are interested in amazing quality photos, affordable prices, video recording capabilities, and more.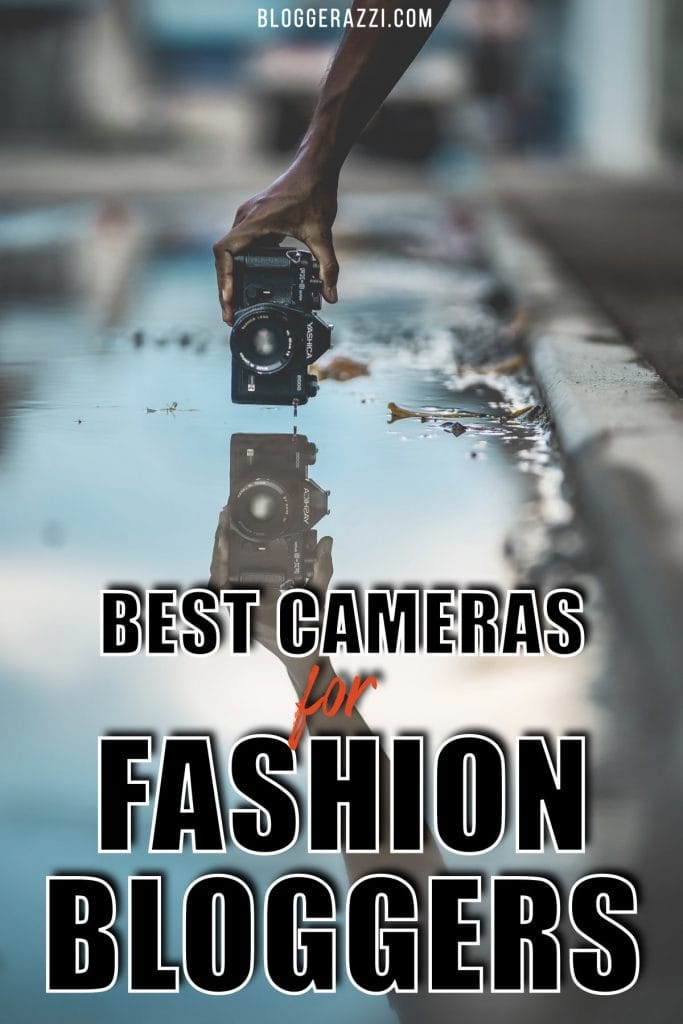 Introduction
It is essential that my blog posts have an authentic look and feel, so I need a camera that is the perfect option for fashion blogging and also produces HD video quality.
To be honest, there are a lot of great options out there in various price ranges, but I personally love my Canon EOS RP. It has everything that you could need to take professional quality photos even in low light conditions, it is affordable at under $1,000, plus it's much easier than lugging around heavy equipment!
Read on to learn more about why this is the best camera for fashion blogging.
---
3 Best Cameras for Fashion Blogging
So, what camera should a blogger use for fashion photography? This is a question that many people have had, myself included.
There are many different types of cameras for fashion bloggers and Instagram influencers to explore. Selecting a camera that will produce stunning photos should factor in your lifestyle (hello travel bloggers!), your budget, as well as what size camera best suits you.
Smaller compact models for fashion portraits like Sony's A7iii mirrorless camera will capture much more detail than many cameras on the market today.
I know it can be overwhelming to decide on the best camera for photography. But today, I'm going to break down my top 3 recommendations so you can find one perfect for your needs!
Here is my list of the 3 best cameras in 2023 and why they're good:
Last update on 2023-11-28 at 21:40 / Affiliate links / Images from Amazon Product Advertising API
This product presentation was made with AAWP plugin.
---
1. Canon EOS RP Full-Frame Mirrorless Camera
The Canon EOS RP is a compact full-frame camera that offers the best of both worlds. It's small and light enough to carry with you everywhere, while at the same time powerful enough for professional photos and video recordings.
This powerful camera speaks to all your needs – from style bloggers who want high-quality pictures without having to lug around heavy equipment to vloggers looking for a compact device for videos!
The Canon EOS RP has it all: an articulating display screen perfect for fashion photography, live-streaming, or recording YouTube videos and more.
The Canon EOS RP is an attractive alternative to the more expensive full-frame models while still easy to use for casual, beginner and intermediate photographers. It offers a solid feature set including Wi-Fi and Bluetooth connectivity and good image quality in a compact package with plenty of customizability options.
As a professional blogger, this is actually the camera I now use for all my photoshoots when I'm not working with a professional photographer.
Combined with the Canon 35mm f1.8 lens, you can get that elusive shallow depth of field (aka blurry background with subject in focus) that newbie bloggers struggle to get. Sis, I know what it is like to be on the other end of that camera.
The struggle and joys are all in my archives! Take your pick from one of my earliest fashion posts for starters- you'll see where I am coming from.
Pros
Affordable, easy-to-use equipment for any level of photography (even in manual mode)
Smaller, lighter form factor allows style bloggers to shoot without breaks or limitations.
Shoot in near darkness with decent-quality night shots (great ISO range!)
Shoot photos that are in focus even for moving subjects (great image sensor!)
Cons
Although not an issue for me, some people might find the absence of a joystick a setback with this camera
I noticed a lower battery life when shooting at extreme temperatures or live-streaming (I have an extra battery and a dummy battery that I use for YouTube and (live streams).
---
2. Sony A7 III Full-Frame Mirrorless Digital Camera
I eyed the Sony A7 III Full-Frame Mirrorless Digital Camera for a while. In a Facebook Groups digital content creators, this camera was highly recommended by style, beauty, and travel bloggers/vloggers.
The low light capability and full-frame sensor attracted me to this camera. Still, I felt that the Canon EOS RP offered more bang for my bucks.
Though it was my second choice after the Canon EOS RP, I've come to appreciate the photos of other bloggers this camera has produced! The Sony A7 III Full-Frame Mirrorless Digital Camera is one of the best cameras for fashion bloggers.
One cool feature of the Sony A7 III Full-Frame Mirrorless Digital Camera is its AF tracking performance that revolutionizes portrait photography.
The camera has an impressive 24.2 MP5 Exmor R CMOS sensor. It provides users with a state-of-the-art optimum focus on moving subjects, making it ideal for capturing portraits. Hence, you never miss a shot again!
If you're already using Canon cameras or have always wanted to give Sony cameras a try, be sure to check out this model before making a decision.
I spent months debating which camera to buy for blogging. This Sony A7 III Full-Frame Mirrorless Digital Camera was my second choice. Either way, you can't go wrong if your heart calls you to Sony.
Pros
Dual SD card slots provide peace of mind when shooting high-resolution photos
42MP resolution means you'll have sharper pictures than ever before
With the Sony A7 III's fantastic autofocus, you'll never have another blurry photo
Fully equipped to connect with the world at your fingertips with Wi-Fi and Bluetooth capabilities
Cons
No built-in flash
Limited touchscreen control
---
3. Canon EOS 5D Mark IV DSLR Camera
Ok, my friends, hear me out on this one. I started blogging in 2008 with nothing but the Canon T3. I eventually upgraded to the flip screen Canon T5i.
As I got better with photography and felt more confident in my work as a fashion blogger, I decided to make a boss move by upgrading to a professional camera: the Canon EOS 5D Mark III.
The EOS 5D Mark III price tag was wayyy over my budget (think $2,000+), but I was able to scoop it up from a seller via a private Facebook Group for $1,500 and some change.
The camera was a beast! But also a nightmare to understand. With so many features, I resorted to YouTube videos, the camera manual, LinkedIn Learning (formerly Lynda courses), and a one-on-one session with my photographer.
He loved the Canon 5D Mark III so much that he bought the Canon EOS R full-frame camera as a temporary camera rather than buying the Sony camera he had his eyes set on. At the same time, he waited for the EOS 5D Mark IV to be released.
On the other hand, I was getting over the honeymoon phase I had with the 5D Mark III. It was incredibly bulky, lacked a flip screen, and required special skills. I could not just hand it off to a stranger to take a "quick" shot for me.
Like any good student, I followed suit and bought the Canon EOS RP like my photographer and still use it to this day (See EOS R vs. EOS RP).
When I heard about the Canon 5D Mark IV release, I had to check it out. Let me tell you, for fashion bloggers who have the financial means and the patience to learn how to use this full-frame professional camera, the 5D Mark IV is a superb camera. And undoubtedly one of the best cameras for fashion bloggers.
The Canon EOS 5D Mark IV has all the bells and whistles you could ask for in a camera. With an enhanced AF system, built-in Wi-Fi, NFC and GPS, the new DSLR model opens up many opportunities for users looking to be ahead of their game with features like its 30-megapixel full-frame CMOS imaging sensor and more!
Pros
Capture incredible images and video with extreme detail
Shoot in almost any light with its impressive high ISO performance
Stunning cinematic video resolution in 4K
Cons
Steep learning curve for new fashion bloggers or anyone not familiar with Canon 5D series
Expensive price can be a setback
No flip screen
That was alot to digest! Like I discussed earlier, there are many popular cameras for bloggers that equally produce beautiful pictures and, albeit HD video quality content like Nikon, Fujifilm, Panasonic, and Pentax.
But my suggestion comes from my years of experience in the industry, months of research, and feedback from fellow creatives in this field.
---
Should You Hire A Professional Photographer For Your Fashion Blog?
The decision to hire a pro-level photographer is not an easy one. For most newbie bloggers, the delicate balance between what to spend money on is daunting.
I started out learning the ropes of the blogging world first by getting my own camera, watching tons of videos, and practicing. I enlisted my friends to use my camera to take photos of me.
Yes, the photos were amateurish at best, but I started to build a better feel for angles, composition, and lighting that I liked or disliked.
There were apparent upsides when I worked with a photographer (paid or trade).
Benefits of Working With A Professional Photographer
Professional photographers are trained in lighting, composition, and posing.
Professionals know how to interact with people on the shoot for a natural feel.
You can hire a photographer who is specialized in your industry or type of event.
Hiring someone will give you more time to focus on other aspects of your business or life.
A professional photographer has access to better equipment than most amateurs do.
If you want editorial photos that look like they belong in an advertisement, hiring a pro is the way to go!
Professional photographers know how to pose subjects to get better shots
Disadvantages of Hiring A Professional Photographer
You might be limited to the photographer's style – always a good idea to view their portfolio (or Instagram feed).
Professional photographers can be expensive (some offer discounted rates to fashion bloggers they routinely work with. Expect to pay $50-$200/hour or per session depending on the area you live).
Hiring a professional photographer may not be necessary if you have someone in your family who can take photos or is willing to learn.
Licensing might be a hassle, especially when you're working with a brand (the photographer owns all rights to the photo. Yes, even if you paid for your session).
You may not like the final product if it doesn't match your expectations or vision.
If there is an issue with the photo quality, then you will need to contact the photographer who could charge more money for fixing them.
Editing photos take time, so you have to factor that into your timeline.
---
Should You Shoot Your Own Fashion Blog Photos?
Photography has come a long way. From the prices of DSLR and mirrorless cameras becoming more and more affordable to the availability of accessories that make selfies and self-directed photoshoots a possibility.
When I'm not working with a pro photographer, I shoot my own fashion blog photos by myself or trade time with another fashion blogger (she helps me with my camera and vice versa).
When I lived in Alaska, 90% of my photos were taken by a pro photographer (oh, hey @SNHPhotos). Yes, I forked out the money for my shoots, and it was well worth it.
When I moved out of state, I batched my photoshoot into a couple weekends a month. I would shoot anywhere from 4-10 outfits per session to give me enough blog and social media content.
When I became pregnant, it was hard scheduling anything in advance (think morning sickness, bloating, tiredness…).
So I only did the bare minimum and recruited family members to help out, or I used my tried and true tripod and the EOS RP built-in Bluetooth to snap photos with a click on my phone.
Benefits of Shooting Your Own Blog Photos
It's cheaper – you don't need to hire a professional photographer.
You can shoot in the comfort of your own home.
If you're new to blogging, shooting pictures yourself is an easy way to get started without having someone else tell you what they want.
Having control over the photoshoots allows for greater creativity (you call the shots!)
Shooting your own blog photos is great for building self-confidence.
You learn more about photography by doing it yourself.
Less edited photos often come out more authentic and personal on social media.
You can shoot any time of day or night without worrying about someone else's schedule.
Shooting blog photos yourself is an excellent way of getting into photography as a hobby or profession in the future!
Disadvantages of Shooting Your Own Photos
It is typically more challenging to create great photos if you don't have much experience
It's incredibly harder to take pictures of things that are happening in real-time (e.g., cooking)
It takes up more of your free time to shoot and edit photos
You'll have to get used to the camera's limitations, like low light capabilities or lack of zoom
You may need additional equipment such as a tripod or remote shutter
You may be limited by how many angles you can shoot from without assistance
You're responsible for covering the cost of editing software like Photoshop or Lightroom
It is time-consuming!
It can be overwhelming working solo
It's more challenging to find good lighting and angles when shooting on your own
---
What's In My Camera Bag? A Fashion Photography Gear Guide
When it comes to fashion blogging, I've realized that I don't need "all the things" to run a successful fashion blog.
Here's a quick timeline of the evolution of my cameras:
January 1, 2012
Canon Rebel T3
This is the very first camera I started blogging with
January 1, 2012
January 1, 2013
Canon Rebel T5i
One year later, I upgraded to this camera. I loved the option of using a remote shutter (when shooting by myself) and it also had a flip screen
January 1, 2013
August 1, 2018
Canon 5D Mark III
After years of using the Canon Rebel T5i, I moved on to the Canon 5D Mark III full-frame DSLR camera
August 1, 2018
February 1, 2020
Canon EOS RP
I loved the 5D Mark III but got tired of lugging around this professional camera. So, I switched to Canon's first full-frame mirrorless camera (only 16 oz). This is the camera I use now.
February 1, 2020
Over the years, I've stripped down my setup to the bare necessity. My 2023 photography gear includes:
---
Scrolled to the bottom?
These Are The 3 BEST Cameras For Fashion Bloggers
Although there are many amazing cameras on the market today, the best camera for fashion blogging is the Canon EOS RP.
This affordable DSLR offers excellent image quality and an intuitive touchscreen user interface, making it ideal for bloggers at any stage in their journey. Plus, it has everything that you could need to take professional-quality photos and videos for your blog and social media.
I hope that the information above has been helpful in your quest to find the best camera for fashion blogging. If you have any other questions, please don't hesitate to reach out!
What's your opinion on the best camera for fashion blogging? Let me know what you think by leaving a comment below.
Not a Prime member yet? Get all the perks of Amazon with this Amazon Prime 30-Day Free Trial. Are you a student? Lucky you! Use this link for your Prime Student 6-month Trial.
Want to learn more? Sign up for my newsletter below to join other goal-digging, fashion-loving entrepreneurs like you. Ready to launch your fashion blog? Here's how to Start A Fashion Blog In Under 30 Minutes.
xo ~ Louisa
For more fashion blogging tips, check out these related blog posts: