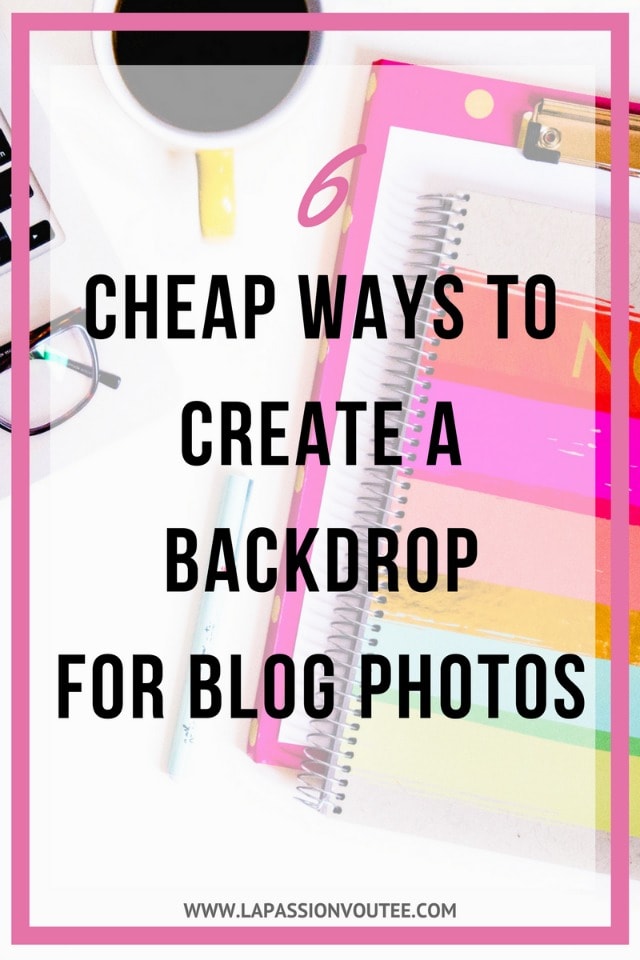 Have you seen those refreshingly beautiful photos on blogs and Instagram and wondered how to create an equally stunning background for blog photos? Yeah, me too!
I searched high and low and became convinced that I needed to paint my apartment or switch to an upgraded rental with marble kitchen countertops in order to achieve a clean background for blog and Instagram photos.
I desperately wanted to improve my still-life photography skills. But I couldn't figure out how to create a killer backdrop for my blog and Instagram. Then, one Instagrammer caught my attention. She, like many others, had the perfect background for all the still-life images she shared. Too scared to ask, I tried recreating it and failed woefully.
Frustrated, I decided to ask since I had nothing to lose. If you've been in the fashion or blogging scene long enough, you know that many people do not willfully divulge such information.
I put on my big girl pants and sent Jess (@stylizedluxe) and another girl a DM on Instagram not expecting a reply. To my surprise, Jess replied back and she told me what she uses. Her secret?
A foam board.
Really? A poster board for photo background? She used this foam board: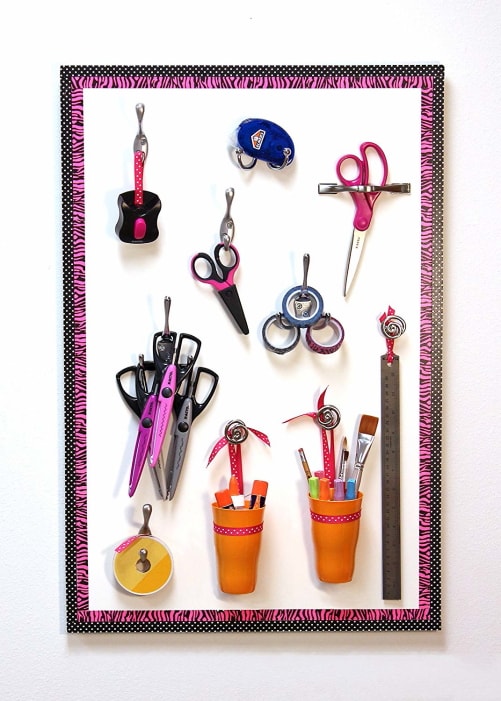 To create this beautiful image:
View this post on Instagram
Here's an example of my result using a foam board!
This post will help you take away the guess work about how to create a killer photo backdrop so your images can stand out on your blog, or Instagram.
HOW TO CREATE A N APPEALING BACGROUND FOR BLOG PHOTOS AND INSTAGRAM POSTS
1. FOAM BOARD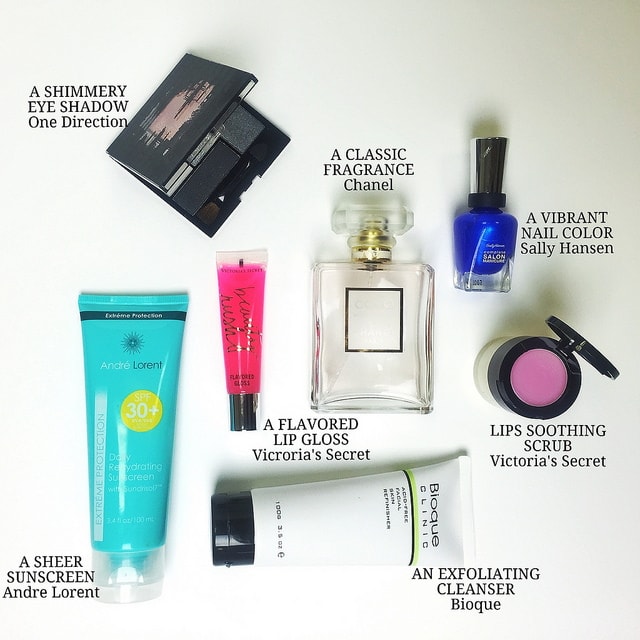 Foam boards are one of the easiest ways to create a clean background and photo backdrop for your images. Shortly after thank @stylizedluxe for the tip, I checked several craft stores before finding foam boards at Michael's for less than $9 (You can save up to 50% with coupons here).
I made a quick run to Michael's last weekend and found out that they now carry a two-sided foam board. One side is holographic and the other side is plain white!
The one I use is white on both sides (also available in black). I use one for for my flat lay photos I share on IG and on the blog as pictured. You'll need two if you want to snap photos of product with a foreground.
For my brand, I prefer to use a white background. If you prefer to use a color that matches your brand, website, or Instagram feed, you can get this set of 10 foam boards from Amazon that is available in 17 different colors.
[su_note note_color="#FFCC00″ text_color="#000000″]HINT: Buying in bulk is cheaper than buying individual colors from Michael's. The foam board measures 20 X 30 X 3/16 inches which is great for small items. An alternative is to use atrifold craft board although they cost a little bit more. As someone who planned to take photos of complete outfit, I needed something larger and found a foam roll.[/su_note]
2. FOAM ROLL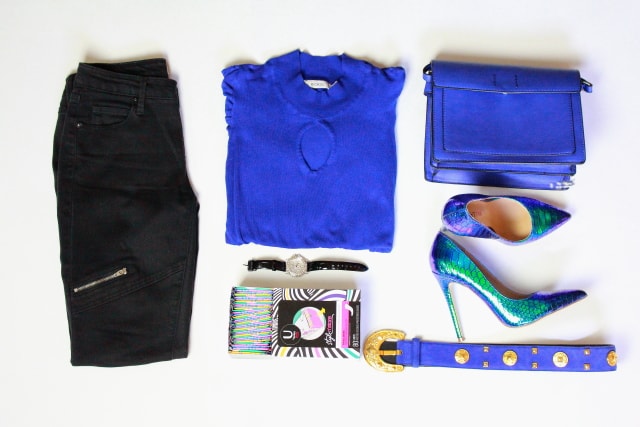 Foam roll is similar to foam board but a foam roll is thinner and more pliable. I use a foam roll for all my outfit flat lay because it is large and can easily be propped on to something (usually my couch or bed) to create a seamless photo backdrop compared to propping two foam boards together. Because of how soft it is, I was able to pin it up to conceal my brown wall in the photo below.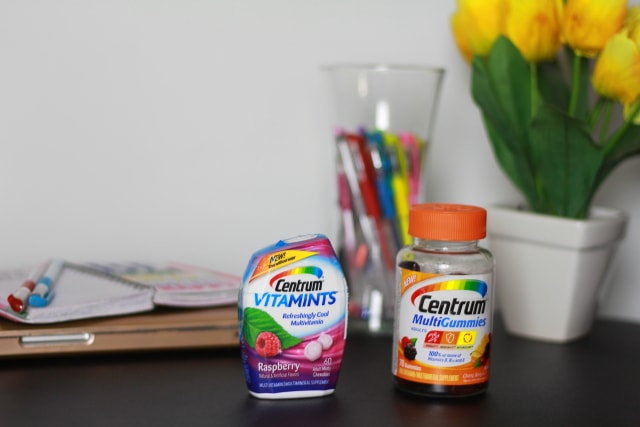 "Wow! I ❤️  these 6 killer ways to create Instagram-worthy photos! Can't wait to try some of these backdrop ideas. https://bit.ly/1UDh0sZ [Click to Tweet]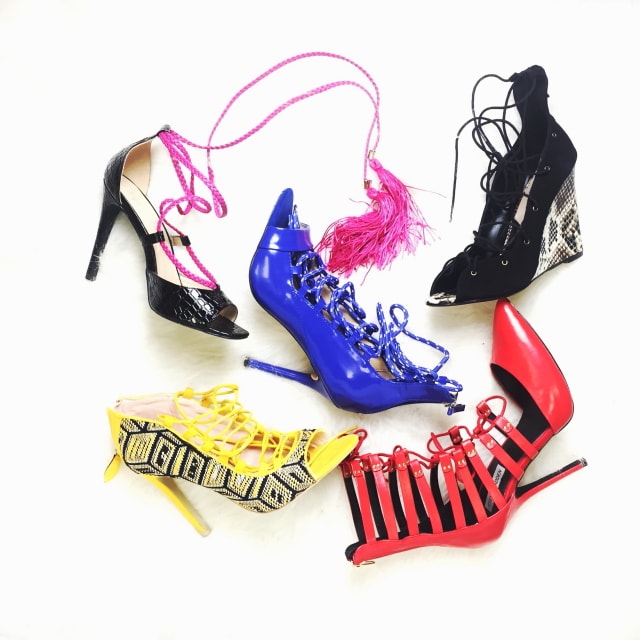 This foam roll measures 36 X 60 inches and has ample room for complete outfits flat lays (or shoefies). Also available at Michael's and Amazon for less than $10 and comes in white or black.
P.S: The roll is delicate so you have to be careful not to puncture holes into it. If you have a room or special area dedicated to photography, you can go all out and get a muslin backdrop background ($15 – $35).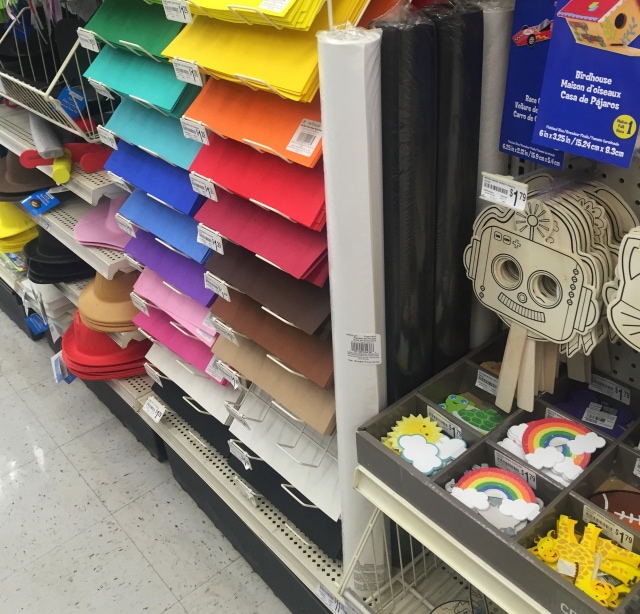 Set it up and forget about it! Depending on how large you go, you can even shoot larger objects and humans. Muslin is the same thing used in professional indoor photo studio.
3. VINYL CONTACT PAPER/SHEET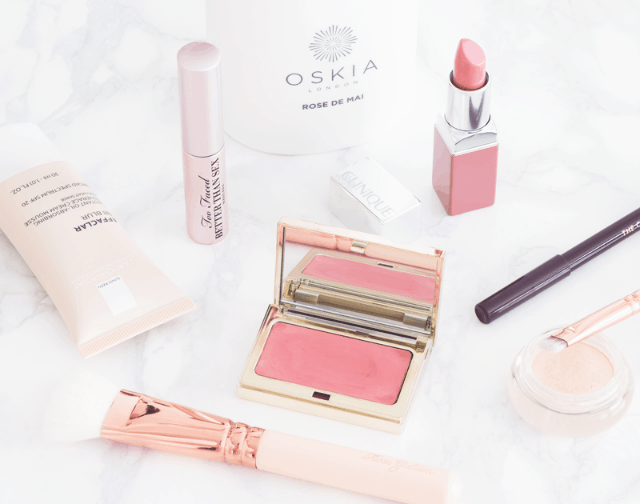 (PHOTO SOURCE)
Vinyl backdrops are a favorite for beauty vloggers and bloggers because it creates the illusion of a marble countertop. I personally haven't used this yet but images created with marble vinyl backdrops are stunning and add a touch of elegance to the photo.
You can easily purchase a vinyl adhesive sheet or contact paper from Amazon and many more from Etsy sellers. Vinyl adhesive sheets come in a variety colors and styles (wood, marble, tiles…).
[RELATED POST: How to Get Free Professional Photos of Yourself]
4. DIY WOOD PHOTO BACKGROUND
If you enjoy making stuff from scratch, you can custom make your own backdrop. All you need are two pieces of wood (plywood is fairly lightweight) and paint (try acrylic) that you can get from Lowes or Home Depot.
Paint one side a major color that you plan to use often (for me it'll be white). The second side of the wood you can split into two or three colors. This example from Melyssa measures 2.5 X 2.5 feet and cost her about $25.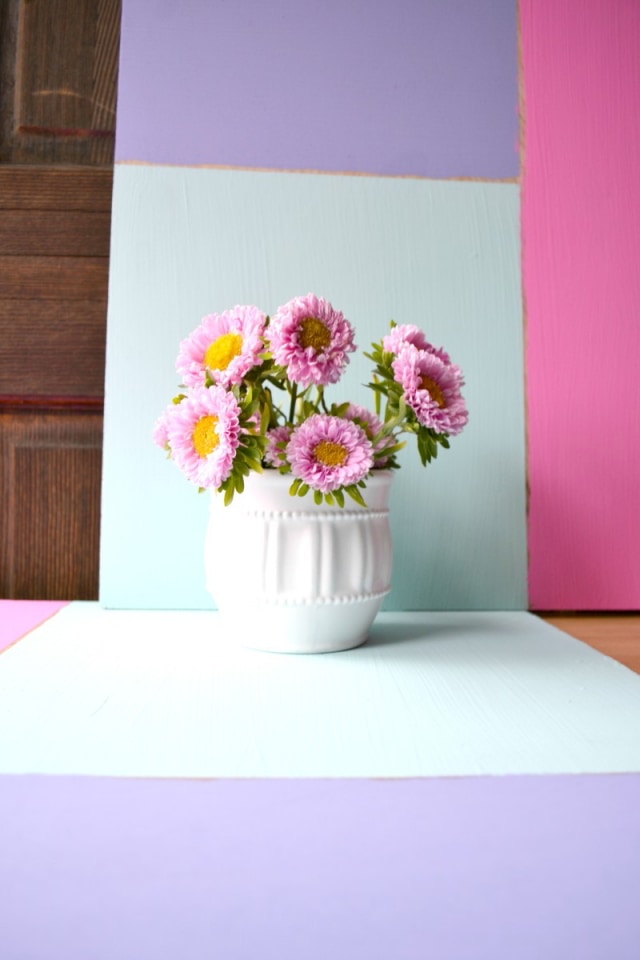 (PHOTO SOURCE)
The fun part about it is that you get to choose the color you want and two pieces of wood can serve multiple purposes with a limitless color variation to meet your needs. Let's not forget how durable it is compared to a foam board.
The only downside is that if you like to take complete outfit flat lay then you'll need a bigger size of wood. Also finding where to store it may be a problem for those (like me) that live in a shoe box, literally.
5. CARDBOARD OR FELT
I was out of town on vacation and bought some pretty cute shoes. I decided to share the shoes on Instagram. I had neither my foam board nor my foam roll with me so I needed an alternative. I dashed to the nearest dollar store and bought cardboard.
I was unsure if it would work but the pictures turned out great. Cardboards can be a little flimsy but if you don't have to do complex manipulations (like propping it up) you should be fine. Cardboards come in a plethora of colors too!
I love to try out new ways of doing things. After the experience of not having a portable foam roll/board with me, I went back to Michael's to peruse through their selection of crafts. I came across felt fabric.
I wanted it in white but grey was the closest color I could find and measures 36 X 36 inches. I found some more colors when I went back recently. The only caution with felt is that it gets crease along the folds.
How I get rid of the crease is by ironing it underneath another fabric. P.S: If you want a bigger size, try this.
6. TEXTURED FABRIC
Taken on my black rug
Textured fabric is another method I have used to create a cool background or photo backdrop for my photos. I used my faux fur rug for the longest time and when it finally gave up, I switched to my black patterned rug.
The faux fur adds a unique texture to the image instead of the classic plain white background. I am considering getting this faux fur rug for less than $30 as a replacement.
You can also use fabrics with design like a scarf, a towel, a pattern rug, or a tablecloth… the options are endless and the best part is that you have many of these in your living space.
PHOTOGRAPHY TIP: Tip if you live in a basement (I know the struggles) or in a place with minimal lighting, you should consider getting a softbox light (and a reflector). Optimal lighting is essential to getting the best images.
To solve this problem, I got this set of two softbox light from Amazon and used it for most of the photos above. You can also DIY one to but Lord knows that that's outside my league. Still need more photo background ideas? Check out this YouTube video:
I hope you found this post about how to creat great backdrop for blog photos helpful.
How do you create awesome background for your blog or Instagram photos? If you found this helpful, don't forget to subscribe below for great blogging tips like this one.